On the IAM Accounts home page, you can reset your UCLA Logon password.  Please make sure you leave no blank spaces in fields and that your CAPS LOCK is off. For help, contact the IT Support Center.
1. Click Reset Your UCLA Logon ID Password.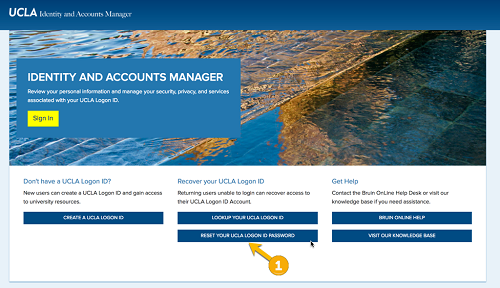 2. On the following screen, click I Have a UID. (If you do not have a UID, see "Reset Your Password without a UID."
3. On the next screen, complete the form:
Enter your UCLA Logon ID.
Enter your Date of Birth (DOB).
Enter your 9 Digit UCLA ID Number (UID).
Click Continue to Challenge Phrase.
4. On the last screen, type your Challenge Response. Do not wait too long to enter the information, as this might result in an error. Click Reset Your Password.