On May 24, 2022, UCLA (Academic Campus) will implement Duo's new browser experience called Universal Prompt. This new version will impact the look and feel of the authentication screen, increase accessibility, and streamline the verification process. This change will not impact the Duo App for mobile devices. 
What's Changing:
The first change you will notice is the authentication prompt from DUO. A side-by-side visual of the new DUO prompt is available below. 
Existing Duo authentication prompt

 

 

 

 

New DUO Authentication prompt

 

 

 

 
After entering your UCLA SSO credentials, DUO Universal Prompt will choose one of the login methods configured, selecting the most-secure method from the ones you have available.
Duo authentication methods from most to least secure:
Touch ID
Security keys
Duo Mobile push approval
YubiKey passcodes
Duo Mobile generated passcodes
Hardware token passcodes
SMS passcodes
Phone call approval
If you haven't set up an authentication method, then the Duo Universal Prompt automatically selects the next available option, following the most to least secure preference order. If you want to select a different method for authentication, click on "Other Options'' and a list of your options will be displayed. Once you select an option for authentication DUO will use that method on subsequent visits.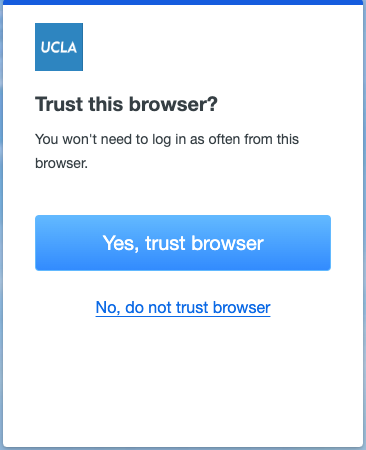 Once you have authenticated, Duo will now ask if you want to trust the browser. If you click "Yes, trust browser" the browser will automatically remember you for 12 hours and you will not be prompted for DUO during that time if the application or service you are accessing allows it. If you select "NO, do not trust this browser," you will still authenticate and continue onto your desired site; however, you will be prompted to re-authenticate each time you log into an application on that browser. 
The current applications that allow you to be remembered for 12 hours is below:
You should not Trust a browser on a shared computer such as one in a hotel business center or a shared computer in your home.
If you need assistance with DUO, please reach out to your local IT Support or the ITS IT Support Center via email at help@it.ucla.edu or phone at (310) 267-HELP (4357).