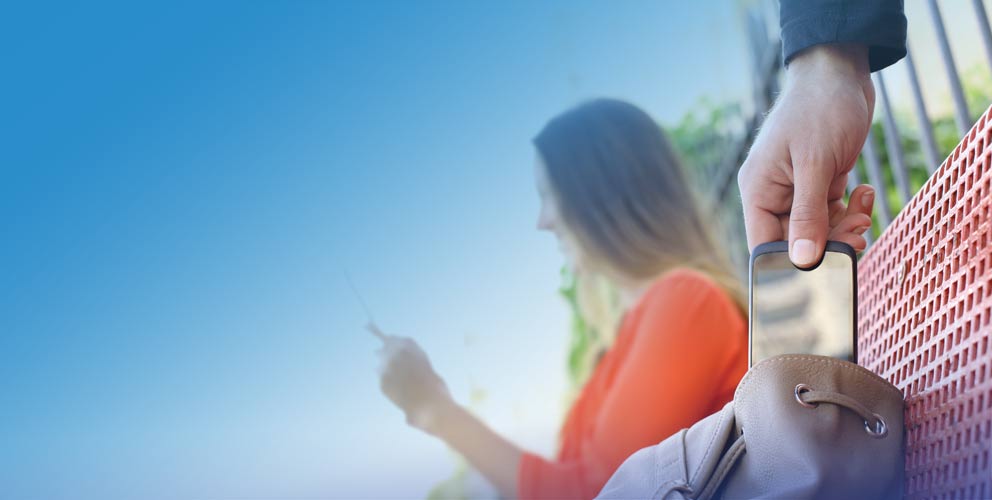 With the rising use of electronic devices such as laptop computers, tablets, cellular phones, and other personal electronics, they have become a target of choice for thieves all over. Because these devices make it easier to store and access information for personal and professional use, they can also put your data at risk. Theft is a significant threat to users of these devices, especially when using them to access your personal information, bank accounts, or work on-the-go.
The cost of a stolen tablet, laptop, or other small electronic device is not solely its replacement cost, but also the cost of peripherals and accessories, the installed software, and the cost of any information that is compromised from that device.
An even greater cost (if your employer issued your device) is the potential exposure and liability that may result from any compromised confidential corporate and client information.
Do you know what to do if your device is lost or stolen?  The tips below provide effective theft-prevention techniques and proactive measures to protect your devices and personal data.
Be Aware.
Be aware of the three most common areas where mobile devices and laptops are stolen: airports, mass transit and automobiles – and always keep your items concealed when in a public place. When traveling, carry your devices in a nondescript carrying case, briefcase, or bag when moving about. Placing these items in a case designed for computers is an immediate alert to thieves that you have these valuable devices.
Don't Leave Your Device Alone, Even for a Minute!
If you're not using it, lock your device in a cabinet or drawer, use a security cable, or take it with you.
Differentiate Your Device.
If your device looks unique, it's less likely that someone will steal your device and say they thought it belonged to them. Sometimes identifying markings make the laptop harder to resell, so they're less likely to be stolen. Use a permanent marking, engraving, or tamper-resistant commercial asset tracking tag.
Secure Your Devices.
Use a passphrase, password, or fingerprint to secure your device from casual intrusion. If you choose to use a password, it is important to be sure to choose different passwords for different programs or devices.
Install Location Tracking Software.
Install and use tracking and recovery software included with most devices (e.g., the "Find My iPhone" feature in iOS) or invest in commercial products like LoJack for Laptops or Prey. Some software includes remote-wipe capabilities. This feature allows you to log on to an online account and delete all of the information on your device. There are subscriber and free versions of this type of software, and each provides a different set of features. Search online to find the best combination of function and cost to meet your needs.
Encrypt and Backup Information.
Determine if your device automatically encrypts your data, and make sure that you regularly back up your information. Keep an external copy of any important files stored on your devices in a safe location.  If your device doesn't use encryption by default, enable it or install encryption software.
Write It Down!
Record the manufacturer, model, and serial number of your mobile devices and store the info in a safe place. This information can be useful for filing a police report and verifying your device, if it's found.
File a Report.
If your device is stolen, file a police report immediately.
Notify Providers.
Keep important phone numbers such as your cell phone provider or IT support department handy, so you can quickly report the device as lost or stolen. In some cases, the cell phone provider or your support desk may be able to deactivate, lock, or wipe the device for you remotely.
Device theft and data loss are escalating concerns for all users. According to the FBI, 97 percent of stolen devices are never recovered. As we become increasingly more mobile and rely on multiple mobile devices including laptops, smartphones, and tablets to conduct business, crimes associated with these devices are also on the rise. Criminals are increasingly becoming more innovative and inventive in finding ways to steal valuable information from mobile devices and laptops that don't have appropriate security. Be aware, be secure, and more importantly, be prepared with your personal backup plan.