Below is a sample phishing email that was recently sent out. If you receive this, please do not respond to it and do not click on any hyperlinks.
Image of Phishing Email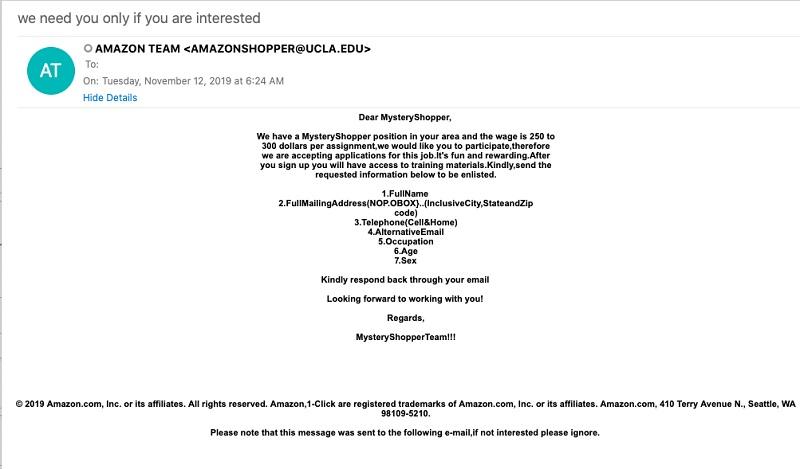 Text of Phishing Email
From: AMAZON TEAM <AMAZONSHOPPER[@]UCLA[.]EDU>
To: <redacted>
Subject: we need you only if you are interested
On: Tuesday, November 12, 2019 at 6:24 AM
Dear MysteryShopper,
We have a MysteryShopper position in your area and the wage is 250 to
300 dollars per assignment,we would like you to participate,therefore
we are accepting applications for this job.It's fun and rewarding.After
you sign up you will have access to training materials.Kindly,send the
requested information below to be enlisted.
1.FullName
2.FullMailingAddress(NOP.OBOX}..(InclusiveCity,StateandZip
code)
3.Telephone(Cell&Home)
4.AlternativeEmail
5.Occupation
6.Age
7.Sex
Kindly respond back through your email
Looking forward to working with you!
Regards,
MysteryShopperTeam!!!
© 2019 Amazon.com, Inc. or its affiliates. All rights reserved. Amazon,1-Click are registered trademarks of Amazon.com, Inc. or its affiliates. Amazon.com, 410 Terry Avenue N., Seattle, WA 98109-5210.
Please note that this message was sent to the following e-mail,if not interested please ignore.