Sextortion Scams are becoming more prevalent. 
Please see the two links below for an explanation of what a sextortion scam is and an article on a current scam that is making it around the Internet.
https://www.fbi.gov/video-repository/newss-what-is-sextortion/view
https://krebsonsecurity.com/2018/07/sextortion-scam-uses-recipients-hacked-passwords/
Image of Phishing Message 1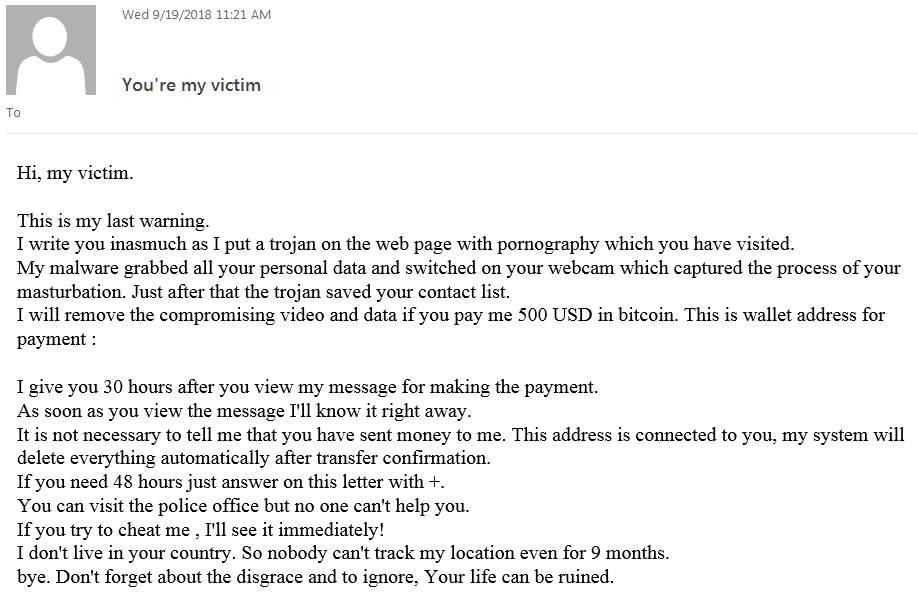 Text of Phishing Message 1
From: <REDACTED> 
Sent: Wednesday, September 19, 2018 11:21 AM
To: <REDACTED>
Subject: You're my victim
Hi, my victim.
This is my last warning.
I write you inasmuch as I put a trojan on the web page with pornography which you have visited.
My malware grabbed all your personal data and switched on your webcam which captured the process of your masturbation. Just after that the trojan saved your contact list.
I will remove the compromising video and data if you pay me 500 USD in bitcoin. This is wallet address for payment : <REDACTED>
I give you 30 hours after you view my message for making the payment.
As soon as you view the message I'll know it right away.
It is not necessary to tell me that you have sent money to me. This address is connected to you, my system will delete everything automatically after transfer confirmation.
If you need 48 hours just answer on this letter with +. 
You can visit the police office but no one can't help you. 
If you try to cheat me , I'll see it immediately! 
I don't live in your country. So nobody can't track my location even for 9 months.
bye. Don't forget about the disgrace and to ignore, Your life can be ruined.
Image of Phishing Message 2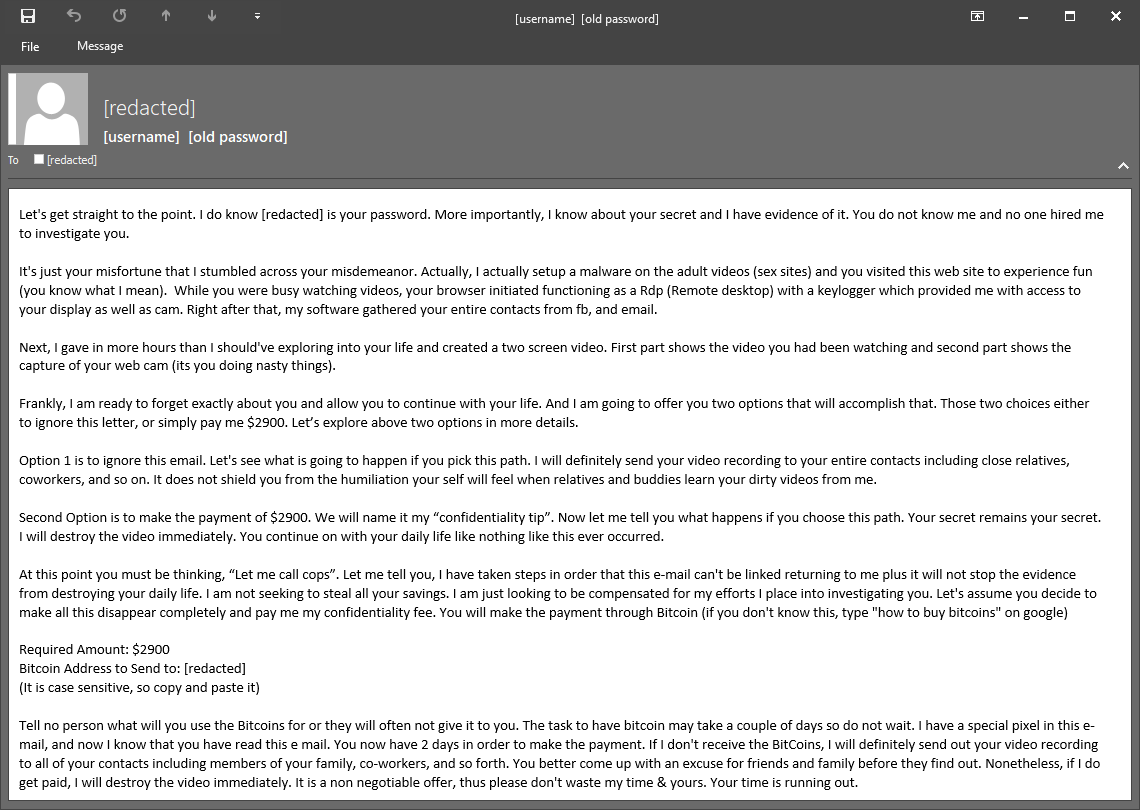 Text of Phishing Message 2
From: [redacted]
To: [redacted]
Sent: Monday, July 16, 2018, 10:37:22 AM PDT
Subject: [username]  [old password]
Let's get straight to the point. I do know [redacted] is your password. More importantly, I know about your secret and I have evidence of it. You do not know me and no one hired me to investigate you.
It's just your misfortune that I stumbled across your misdemeanor. Actually, I actually setup a malware on the adult videos (sex sites) and you visited this web site to experience fun (you know what I mean).  While you were busy watching videos, your browser initiated functioning as a Rdp (Remote desktop) with a keylogger which provided me with access to your display as well as cam. Right after that, my software gathered your entire contacts from fb, and email.
Next, I gave in more hours than I should've exploring into your life and created a two screen video. First part shows the video you had been watching and second part shows the capture of your web cam (its you doing nasty things).
Frankly, I am ready to forget exactly about you and allow you to continue with your life. And I am going to offer you two options that will accomplish that. Those two choices either to ignore this letter, or simply pay me $2900. Let's explore above two options in more details. 
Option 1 is to ignore this email. Let's see what is going to happen if you pick this path. I will definitely send your video recording to your entire contacts including close relatives, coworkers, and so on. It does not shield you from the humiliation your self will feel when relatives and buddies learn your dirty videos from me.
Second Option is to make the payment of $2900. We will name it my "confidentiality tip". Now let me tell you what happens if you choose this path. Your secret remains your secret. I will destroy the video immediately. You continue on with your daily life like nothing like this ever occurred.
At this point you must be thinking, "Let me call cops". Let me tell you, I have taken steps in order that this e-mail can't be linked returning to me plus it will not stop the evidence from destroying your daily life. I am not seeking to steal all your savings. I am just looking to be compensated for my efforts I place into investigating you. Let's assume you decide to make all this disappear completely and pay me my confidentiality fee. You will make the payment through Bitcoin (if you don't know this, type "how to buy bitcoins" on google) 
Required Amount: $2900 
Bitcoin Address to Send to: [redacted]
(It is case sensitive, so copy and paste it)
Tell no person what will you use the Bitcoins for or they will often not give it to you. The task to have bitcoin may take a couple of days so do not wait. I have a special pixel in this e-mail, and now I know that you have read this e mail. You now have 2 days in order to make the payment. If I don't receive the BitCoins, I will definitely send out your video recording to all of your contacts including members of your family, co-workers, and so forth. You better come up with an excuse for friends and family before they find out. Nonetheless, if I do get paid, I will destroy the video immediately. It is a non negotiable offer, thus please don't waste my time & yours. Your time is running out.