Following is an example of a phishing email that was recently sent out. If you receive this email, please do not respond to it and do not click on any links.
Image of the Phishing Email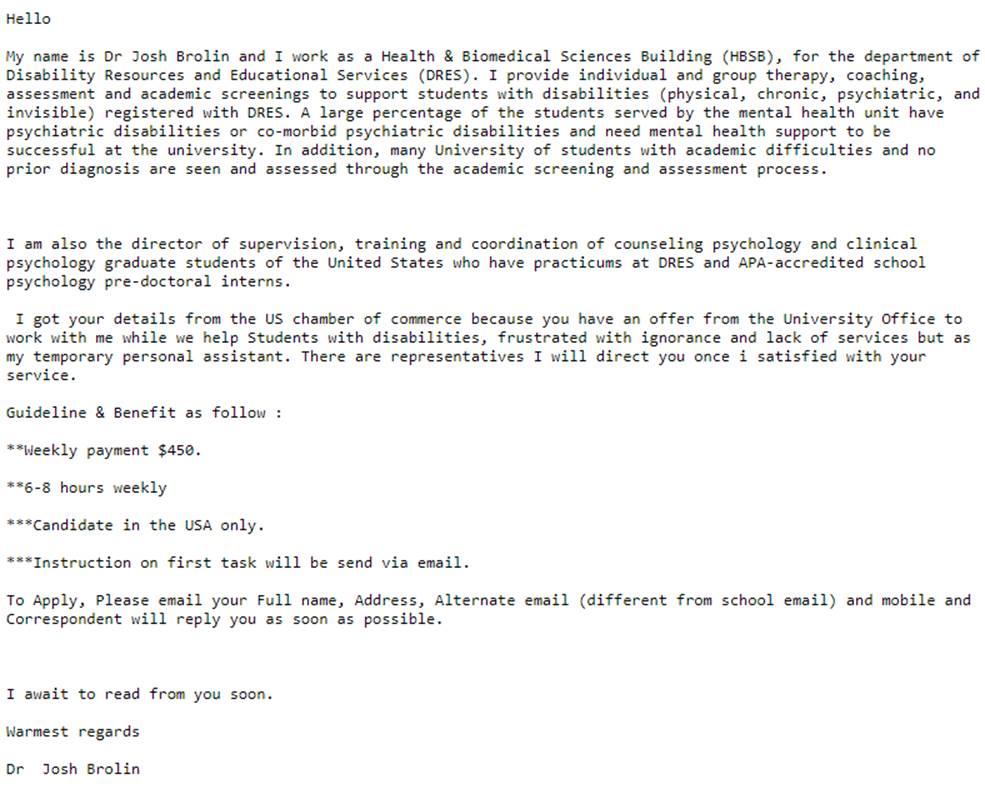 Text of the Phishing Email
Hello
My name is Dr Josh Brolin and I work as a Health & Biomedical Sciences Building (HBSB), for the department of Disability Resources and Educational Services (DRES). I provide individual and group therapy, coaching, assessment and academic screenings to support students with disabilities (physical, chronic, psychiatric, and invisible) registered with DRES. A large percentage of the students served by the mental health unit have psychiatric disabilities or co-morbid psychiatric disabilities and need mental health support to be successful at the university. In addition, many University of students with academic difficulties and no prior diagnosis are seen and assessed through the academic screening and assessment process
I am also the director of supervision, training and coordination of counseling psychology and clinical psychology graduate students of the United States who have practicums at DRES and APA-accredited school psychology pre-doctoral interns.
I got your details from the US chamber of commerce because you have an offer from the University Office to work with me while we help Students with disabilities, frustrated with ignorance and lack of services but as my temporary personal assistant. There are representatives I will direct you once i satisfied with your service.
Guideline & Benefit as follow :
**Weekly payment $450.
**6-8 hours weekly
***Candidate in the USA only.
***Instruction on first task will be send via email.
To Apply, Please email your Full name, Address, Alternate email (different from school email) and mobile and Correspondent will reply you as soon as possible.
I await to read from you soon.
Warmest regards
Dr  Josh Brolin