Following is an example of a phishing email that was recently sent out. If you receive this email, please do not respond to it and do not click on any links.
Image of Phishing Email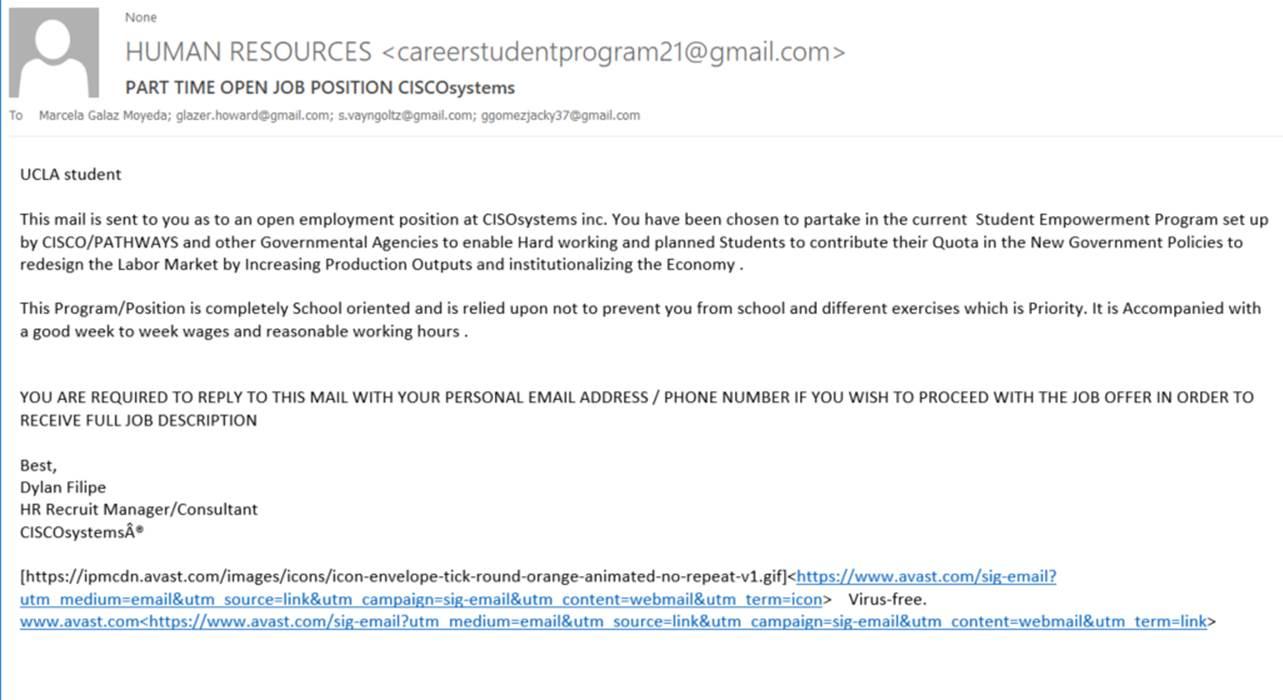 Text of Phishing Email
From: HUMAN RESOURCES <careerstudentprogram 21 @@@gmail[.]com>
Sent: Monday, May 6, 2019 10:57:41 AM
To: <Redacted>
Subject: PART TIME OPEN JOB POSITION CISCOsystems
UCLA student
This mail is sent to you as to an open employment position at CISOsystems inc. You have been chosen to partake in the current  Student Empowerment Program set up by CISCO/PATHWAYS and other Governmental Agencies to enable Hard working and planned Students to contribute their Quota in the New Government Policies to redesign the Labor Market by Increasing Production Outputs and institutionalizing the Economy .
This Program/Position is completely School oriented and is relied upon not to prevent you from school and different exercises which is Priority. It is Accompanied with a good week to week wages and reasonable working hours .
YOU ARE REQUIRED TO REPLY TO THIS MAIL WITH YOUR PERSONAL EMAIL ADDRESS / PHONE NUMBER IF YOU WISH TO PROCEED WITH THE JOB OFFER IN ORDER TO RECEIVE FULL JOB DESCRIPTION
Best,
Dylan Filipe
HR Recruit Manager/Consultant
CISCOsystems®
[https:  //ipmcdn.avast.com/images/icons/icon-envelope-tick-round-orange-animated-no-repeat-v1.gif] <https:  //www.   avast.   com .  /sig-email?utm_medium=email&utm_source=link&utm_campaign=sig-email&utm_content=webmail&utm_term=icon>    Virus-free. [http:  //www.   avast.  com %3chttps:/www.     avast.     com .   /sig-email?utm_medium=email&utm_source=link&utm_campaign=sig-email&utm_content=webmail&utm_term=link] www.   avast....   com<https:    // www.       avast.     com/sig-email?utm_medium=email&utm_source=link&utm_campaign=sig-email&utm_content=webmail&utm_term=link>