The following is a phishing email. If you receive this type of email, please do not respond to it or click on any hyperlinks.
Image of Phishing Email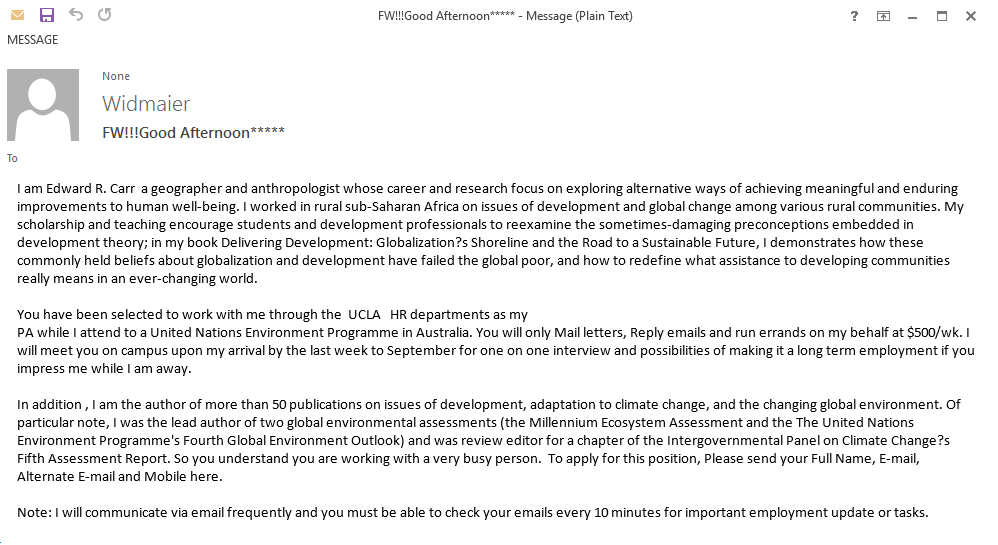 Text of Phishing Email
From: Widmaier,Chelsea N <redacted> 
Sent: Wednesday, September 12, 2018 6:23 PM
Subject: FW!!!Good Afternoon*****
I am Edward R. Carr  a geographer and anthropologist whose career and research focus on exploring alternative ways of achieving meaningful and enduring improvements to human well-being. I worked in rural sub-Saharan Africa on issues of development and global change among various rural communities. My scholarship and teaching encourage students and development professionals to reexamine the sometimes-damaging preconceptions embedded in development theory; in my book Delivering Development: Globalization?s Shoreline and the Road to a Sustainable Future, I demonstrates how these commonly held beliefs about globalization and development have failed the global poor, and how to redefine what assistance to developing communities really means in an ever-changing world.
You have been selected to work with me through the  UCLA   HR departments as my
PA while I attend to a United Nations Environment Programme in Australia. You will only Mail letters, Reply emails and run errands on my behalf at $500/wk. I will meet you on campus upon my arrival by the last week to September for one on one interview and possibilities of making it a long term employment if you impress me while I am away.
In addition , I am the author of more than 50 publications on issues of development, adaptation to climate change, and the changing global environment. Of particular note, I was the lead author of two global environmental assessments (the Millennium Ecosystem Assessment and the The United Nations Environment Programme's Fourth Global Environment Outlook) and was review editor for a chapter of the Intergovernmental Panel on Climate Change?s Fifth Assessment Report. So you understand you are working with a very busy person.  To apply for this position, Please send your Full Name, E-mail, Alternate E-mail and Mobile here.
Note: I will communicate via email frequently and you must be able to check your emails every 10 minutes for important employment update or tasks.